We Are Your #1 Choice for Quality Desoto Sprinkler Repairs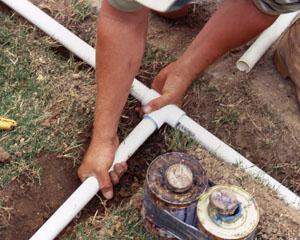 We are a full service sprinkler system installation and repair shop. We don't do air conditioners, furnaces, roof repairs, or other "maintenance" jobs. Sprinkler systems are precisely tuned machines that require an in-depth knowledge of water pressure, hydraulics and yearly climate changes. We simply don't have time to learn additional jobs – sprinklers are a full time undertaking.
If you don't already have a sprinkler system, you're in the minority in Desoto. Sprinkler repair is just one of the many services we offer, so even if you don't have a current system we can help. Our sprinkler installation techs will come out to your property and do a thorough pre-installation evaluation and then use the latest CAD technology to design a custom sprinkler solution for your home or business.
---
So Much More Than Just Sprinkler Repair in Desoto TX

The difference between a custom sprinkler system and a cookie-cutter system is the same as the difference between driving a picture hanger into the wall with a claw hammer and a sledge hammer. They'll both do the job, just one of them will create more problems. It's a simple matter of using the right tool for the right job. Sure, the custom system is a bit more expensive than a cookie-cutter system up front, but it will deliver far better results and reduce your utility bills. Where a cookie-cutter system will blast water equally over every inch of your yard, a customer system will deliver precisely the right amount of water to each area of turf and each planting bed.
Checking and Adjusting Sprinkler Systems
Sprinkler Head Repair and Replacement
Raising or Lowering Sprinkler Heads
Sprinkler Valve Replacement
Electronic Sprinkler Valve Location
Repairing Broken Sprinkler Pipes
Sprinkler Controller/Timer Replacement
Detecting and Fixing Wiring Problems
Coverage Problems
Rain and Freeze Sensor Installation
Double Check Assembly Replacement
Pump System Installation and Repair